Jackery Giant Review Portable Battery Pack
Today we're reviewing an awesome little portable battery pack from Jackery named the Giant. This device will make any survival or camping situation a lot more tolerable especially paired with a solar panel or Biolite stove. Watch the video to see it "in action".
This little pack can extend your battery life to up to 220 hours according to Jackery, while we have not tested to see if that's the case we can tell you that this thing rocks. First we tested it with an iPhone and it excelled, so then we tried one of the hardest USB devices to charge, an iPad and it charged it extremely fast.
The video below will show you just how easy the Jackery is to use. While we show the iPad at 96% at the end, we didn't show the time it took to take it to 100% which was right at 5 minutes.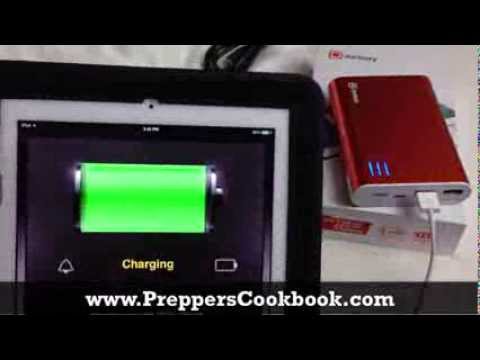 As you can see in the image above the Jackery has 3 ports and a pair of bright LEDs it uses to become a flashlight (great additional feature).
The ports from left to right as pictured above
IN : this is where you plug in a power source such as a USB charger or solar device such as the Anker Solar Panel that we reviewed to charge it anywhere there is sun
5V 1A : 5 volt 1 amp port, this is what most cell phones will require to quick charge, you plug your cell phone's power cable in this port and it will start charging right away.
5V 2.1A : As you have guessed, this is a 5 volt 2.1 AMP, this allows you to charge power hungry devices such as iPads and other tablets. Many of these devices will not charge without 2.1A, but we show in the video even the 1amp port will charge the iPad which really impresses us. This means the Jackery Giant is not faking it's output like many manufactures do.
If the Jackery's power is low it will take a while to charge, because it's large capacity.  Think of it like this a larger gas tank takes longer to fill up than a smaller one. The Jacker is a larger battery than your phone there it will take longer to charge it up.
While the Jackery is a very small battery pack compared to a car battery for instance, it still has many advantages. It's extremely portable and light weight allowing you to put it in any back page or even a larger coat pocket. It had built in USB ports so you don't need to bring a USB DC converter. ANyone can operate the Jackery with it's single button to check to charge level and turn off and on the built in flash light.
Here is what we see as the prefect use scenario when charging the Jackery off grid with either a BioLite stove or solar panel device. The Biolite will be a slight hassle to if the Giant is low on power due to how long you will have to charge it; therefore having to sit and feed a fire the whole time, but it's better than not having any power pack at all. The best solution would be using a solar panel to charge the Jackery. This allows you to leave it unattended during the day and then at night recharge your usb powered devices with ease.
The time it takes to fully charge the Jackery with a solar panel will depend on a few factors. The sun's brightness, a sunny day will charge the Jackery many times faster than a cloudy day. A dead Jackery will take a lot longer than a nearly fully charged one. I am sure this is all commonsense, but these are the kinds of things you will face when trying to survive off little power.
The Jackery is under $50 at the time of this review and it's worth every penny. There are other manufactures of similar devices, but many of them are nothing more than junk. The Giant is a solid built unit with a great warranty.
What we liked about the Jackery Giant
Light weight, weights little more than the battery it holds
Easy to use, even a small child can operate it
Quality build with great Samsung battery
Built in flashlight
Large capacity battery for extended charging
It will charge higher power requirement devices such as iPads
The price
What we didn't like… honestly there is not much not to like about the Giant
The color, yes we get it. If you drop your device you will be able to spot it from aways. If I'm out in the woods I might not want my devices being seen from so far away and the bright orange color makes it very noticeable. So this knocks off a quarter star from our rating. This might not be anissue at all for you, but if it was forest green it would be perfect.
Prepper's Cookbook rating: 4.75 out of 5 stars (a must have)
Related Reviews:
Anker 14watt Portable Solar Panel
Biolite Camp Stove
Share